Research & Clinical Trials
Understanding the Chemicals Involved in Knee Osteoarthritis – Open
---
Osteoarthritis is the most common type of arthritis, affecting over 25 million people in the United States. Risk factors for osteoarthritis include age, sex, prior joint injury, obesity, genetic predisposition, and mechanical factors including malalignment. Osteoarthritis was long considered a "wear and tear" disease leading to a loss of cartilage. However, more recent studies suggest that inflammatory changes and abnormal remodeling of joint tissues is also involved in the disease process, and osteoarthritis is increasingly considered a "whole joint" disease rather than merely a cartilage problem.
The goal of this study is to obtain a better understanding of the chemicals involved in knee osteoarthritis. This study will analyze blood, tissues and fluids normally removed and discarded during the course of arthroscopic surgery. Samples can be obtained from participants without the need for any invasive procedures, and there are no additional costs to the patient. The information we obtain may lead to more effective treatments and earlier, more accurate diagnosis of osteoarthritis.
Rotator Cuff Repair – Improving Patient Outcomes – Closed 2017
---
In 2008, 18.9 million adults (8.2% of the US adult population) reported chronic shoulder pain, second only to low back pain in patients seeking care for musculoskeletal symptoms. Rotator cuff injuries are common in athletes and more than 60% of individuals over age 60 will experience some form of rotator cuff injury. Multiple studies have demonstrated that structural changes in the rotator cuff muscles are irreversible and highly correlated with poor treatment outcomes and surgical repair failures. Genetics represents a promising and relatively unexplored method of understanding these issues.
The purpose of this study is to better understand the genes involved in rotator cuff tears by analyzing tissue samples from patients who elect to participate. The information we obtain may improve surgical outcomes for future patients and may also lead to more effective treatments/procedures.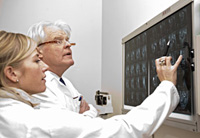 Anterior Cruciate Ligament Injuries (ACL) – Closed 2008
C. Thomas Vangsness, Jr., M.D is involved in several FDA and IRB approved clinical research trials that you may be able to participate in.
---
This study is for patients who have a torn ACL and are planning on having surgery to reconstruct their ligament. It is designed to compare the efficacy of pre-shaped patellar tendon allografts that have undergone the BioCleanse process to the clinical outcome of other standard allograft tissue preparations.
"Evaluation of BioCleanse Patellar Tendon Allografts for the Reconstruction of Allografts for the Reconstruction of Anterior Cruciate Ligaments: A Prospective, Randomized, Investigation."
The ligament is reconstructed with tissue from either you, the patient (autograft), or from a cadaver (allograft). Allografts have been commonly used since the early 1980's. The major concern in using allografts is contamination or transmission of disease from the donor. The most common sterilization method used is gamma irradiation. BioCleanse is another process that cleans and sterilizes this donated tissue.
To be eligible, you must be 18-55 years old, have an ACL tear that is less than 6 months old and plan on having surgery. Participants will be randomly divided into two groups. One group will receive the BioCleanse allograft and the other group will receive the allograft that is sterilized with gamma radiation (irradiated). Regardless of which group you are in, all other aspects of your surgical and pos-operative care will remain the same. Your will need to see the doctor prior to surgery, for surgery, and then 5 times after surgery (at 6 weeks, 3, 6, 12, and 24 months).
Meniscus Damage – Closed 2008
---
This is a Stem Cell study to evaluate whether a single injection of adult stem cells into the knee after meniscectomy will regrow the meniscus and potentially protect the knee joint in the future.
"Phase I/II Randomized, Controlled, Double-blind, Study of Chondrogen – Adult Universal Cell Delivered by Intra-articular Injection Following Meniscectomy in Patients 18-60 years."
This study is for patients who have a torn medial knee meniscus and are planning on having surgery to remove or repair this meniscus cartilage. Stem cells are capable of regenerating new meniscus cartilage. Chondrogen is an injection containing stem cells from donated adult human bone marrow. We hope to learn whether the injection into the knee can help to regrow the meniscus cartilage which may help protect the joint in the future from arthritis.
The active ingredients in Chondrogen are adult Mesenchymal Stem Cells (MSCs). The cells in this product come from normal healthy adult volunteer donors and are NOT derived from a fetus, embryo, or animal. Studies have shown that these cells are universally compatible. This means that, similar to blood type O, these MSCs may safely be used without tissue type matching for specific patients.
Participants in the study will be divided into 3 groups. One group will receive an injection without stem cells and the other two groups will have stem cells in the injection at 2 different dosages, a regular and high dose. All subjects will be randomly assigned to a group. Neither you nor your surgeon will know which group you are in. Regardless of which group you are assigned to, all other aspects of your care will remain the same.
If you are eligible to participate, you will need to see the physician 1-2 times before your surgery, 1 week after the surgery for the injection, and again for 5 more visits over a 2 year period (at 3, 6, 12, 18, and 24 months). During these follow up visits you will see the physician for a physical exam, complete paperwork, have blood test, and additional free MRIs to measure changes in the meniscus.
To be eligible, you nee to be 18-60 years old, have a tear in your medial knee meniscus, and choose to have surgery. You may not have advanced arthritis in your knee. If you are interested in participating in the study, other criteria will be discussed with you.
---