Arthroscopic Knee Surgery
Arthroscopic Knee Surgery, Los Angeles, CA
For personalized patient care and state-of-the-art procedures, come to Los Angeles for your arthroscopic knee surgery. Specializing in a wide assortment of orthopaedic treatments and surgical procedures, Dr. Thomas Vangsness is a leading physician in his field. For one of the most common orthopaedic injuries, a meniscal tear, Dr. Vangsness performs arthroscopic knee surgery. Each knee has an inner and outer meniscus, acting as shock absorbers that protect underlying cartilage and bone from wear and tear. Your menisci are wedged-shaped, helping to deepen the joint and provide stability of the knee. When a meniscus tear occurs, arthroscopic knee surgery may be needed to help the knee heal and recover successfully.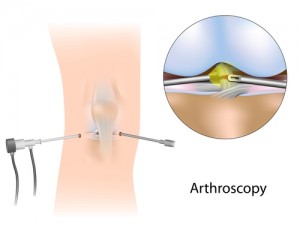 Dr. Vangsness uses state-of-the-art equipment and techniques for his arthroscopic knee procedures and strives to make your surgery and recovery as comfortable for you as possible. If pain or mechanical symptoms continue after your injury, surgical removal of the torn area of the meniscus will most likely be recommended. Arthroscopic knee surgery is a minimally invasive procedure in which Dr. Vangsness uses a small tool called an arthroscope, a very small camera that is about the size of a pencil. Dr. Vangsness uses the arthroscope and other small tools to fix the torn meniscus cartilage by removing or trimming just the damaged portion. Dr. Vangsness is committed to helping you regain strength and mobility in your knee. Make Los Angeles the place for arthroscopic knee surgery, and get the personalized patient care you deserve.
For more information about arthroscopic knee surgery, contact orthopaedic surgeon Dr. Vangsness at (434) 493-4943.