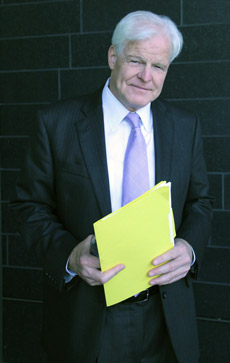 C. Thomas Vangsness, Jr., M.D.
Dr. Vangsness educational background includes a Medical Doctorate from the University of Minnesota where he was also born and raised. He carried out graduate studies in public health. His orthopedic surgery training was at the prestigious Hospital for Joint Diseases NYU in New York City. He completed a Bioengineering Fellowship at NYU and finished a Sports Medicine Fellowship at the Kerlan-Jobe Orthopaedic Clinic in Los Angeles, California.
In his 35 year career at USC, Dr. Vangsness has won many University and National academic awards as a teacher and researcher and is internationally recognized as an expert in knee and shoulder surgery. He has specialized in the conservative and operative treatment of sports injuries and is skilled at minimally invasive techniques for the treatment of the ACL, meniscus and rotator cuff tears, shoulder instability and cartilage injuries. He continues to see selected patients in consultation and pursues ongoing cutting edge Stem Cell and Exosome Research.
His main focus has been on patient care. He brings personal integrity and kindness along with the highest technical level of care. Dr. Vangsness continues to provide the best of science to the best of patient care. His professional credits and credentials are listed below:
EDUCATION
---
Fellowships
Bioengineering Fellowship, 1981 – 1982
Hospital for Joint Diseases, Orthopaedic Institute, New York, NYSports Medicine Fellowship, 1986 – 1987
Kerlan-Jobe Orthopaedic Clinic, Inglewood, CA
Residency
Hospital for Joint Diseases, 1982 – 1986
Orthopaedic Institute, New York, NY
Internship
Hennepin County Medical Center, 1980 – 1981,
General Surgery, Minneapolis, MN
Medical School
University of Minnesota School of Medicine, M.D., 1980,
Minneapolis, MN
Graduate School
School of Public Health, Department of Epidemiology, 1975-1976
Minneapolis, MN
College
St. Olaf College, B.A., Chemistry and Asian Studies, 1973,
Cum Laude, St. Paul, MN
High School
St. Paul Academy, St. Paul, MN, 1969
Honors and Awards
Teacher of the Year Award, USC Department of Orthopaedic Surgery,
1994, 1999, 2008Neer Award 1997Kerlan-Jobe Presentation Award, 1997
Licensure
New York, 1981; Minnesota, 1981; California, 1982
Board Certification
American Board of Orthopaedic Surgery, July 1989;
Recertification December 2020 – 2030
PROFESSIONAL BACKGROUND
---
Academic Appointments
University of Southern California School of Medicine, 1987 Assistant Professor of Clinical Orthopedics
University of Southern California School of Medicine, 1995 Associate Professor of Orthopaedics
University of Southern California School of Medicine, 2002 – 2021 Professor of Orthopaedic Surgery
SOCIETY MEMBERSHIPS
---
Local
University of Southern California Graduate Orthopaedic Society, 1987 – PresentCalifornia Orthopaedic Association, 1991 – Present
Western Orthopaedic Association, 1994 – Present
Wilson-Bost Interurban Orthopaedic Club, 2003 – Present
National / International
Hospital for Joint Diseases Alumni Association, 1986 – Present
American Academy of Orthopaedic Surgeons, 1991 – Present
Orthopaedic Laser Society of North America, 1991 – Present (Founding Member)
Arthroscopy Association of North America, 1992 – Present
Orthopaedic Research Society, 1992 – Present
Biomedical Optics Society, 1992 – 1995
American Orthopaedic Society for Sports Medicine, 1993 – Present
American Shoulder and Elbow Surgeons, 1995 – Present
The International Society of Orthopaedic Surgery and Traumatology, 1990 – Present
International Cartilage Repair Society, 2002 – Present
Biologics Association, 2019-Present
RESEARCH INTERESTS
---
Meniscus Physiology
Shoulder Biomechanics
Ligament Biomechanics
Allograft Transplantation
Radiofrequency Energy Effects on Articular Cartilage, Meniscal Cartilage and Ligaments
Molecular Biology and Sports Medicine
Stem Cell/Exosome/Regenerative Medicine in Orthopedic Surgery
---