Treatment for a Knee With a Torn Meniscus
Treatment for a Torn Meniscus, Los Angeles, CA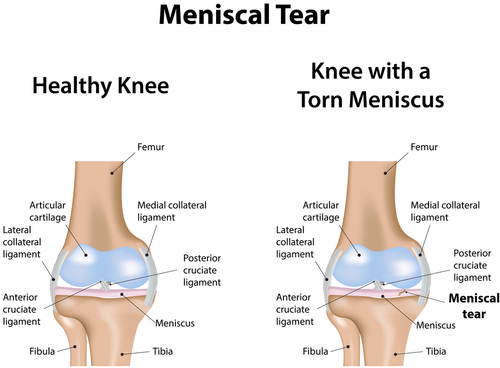 A meniscus tear in the knee is one of the most common orthopaedic injuries affecting patients of all ages and activity groups. The meniscus has two very important functions. First, it acts as a "shock absorber" that protects the underlying bone and cartilage from wear and tear which can sometimes lead to arthritis. The meniscus also helps deepen the joint by way of its wedged shape, adding stability to the knee. A meniscus tear can come from an athlete performing a twisting movement while the knee is bent or flexed and often occurs in older patients as the surrounding cartilage weakens with age.
As an experienced orthopaedic surgeon, Dr. Thomas Vangsness understands the seriousness and discomfort of a meniscus tear injury. For over 15 years, Dr. Vangsness has been helping patients regain strength and physical relief with orthopaedic surgery and reconstructive procedures, and he specializes in repairing meniscus injuries. For conservative treatment of a meniscus tear, Dr. Vangsness begins with RICE – Rest, Ice, Compression and Elevation. Immediately following an injury, the RICE process helps decrease pain and swelling of inflammation. If pain or mechanical symptoms continue after the initial injury, surgical removal of the torn area of the meniscus may be necessary. For your procedure in Los Angeles, Dr. Vangsness uses state-of-the-art procedures and techniques to help ensure your comfort and safety. For meniscus tear injuries, Dr. Vangsness performs a minimally invasive surgery using an arthroscope (a very small camera about the size of a pencil) along with other very small tools to fix the torn meniscus cartilage by removing or trimming the damaged portion. For high-quality patient care and the physical relief you deserve, come see Dr. Vangsness of Los Angeles for your meniscus tear treatment.
For more information about meniscus tear treatment, contact Dr. Thomas Vangsness at (323) 442-5800.